Our Engraved Jewellery Options
Engraved jewellery is a popular choice for many, as it adds a personalised touch and sentimental value to the beautiful jewellery piece.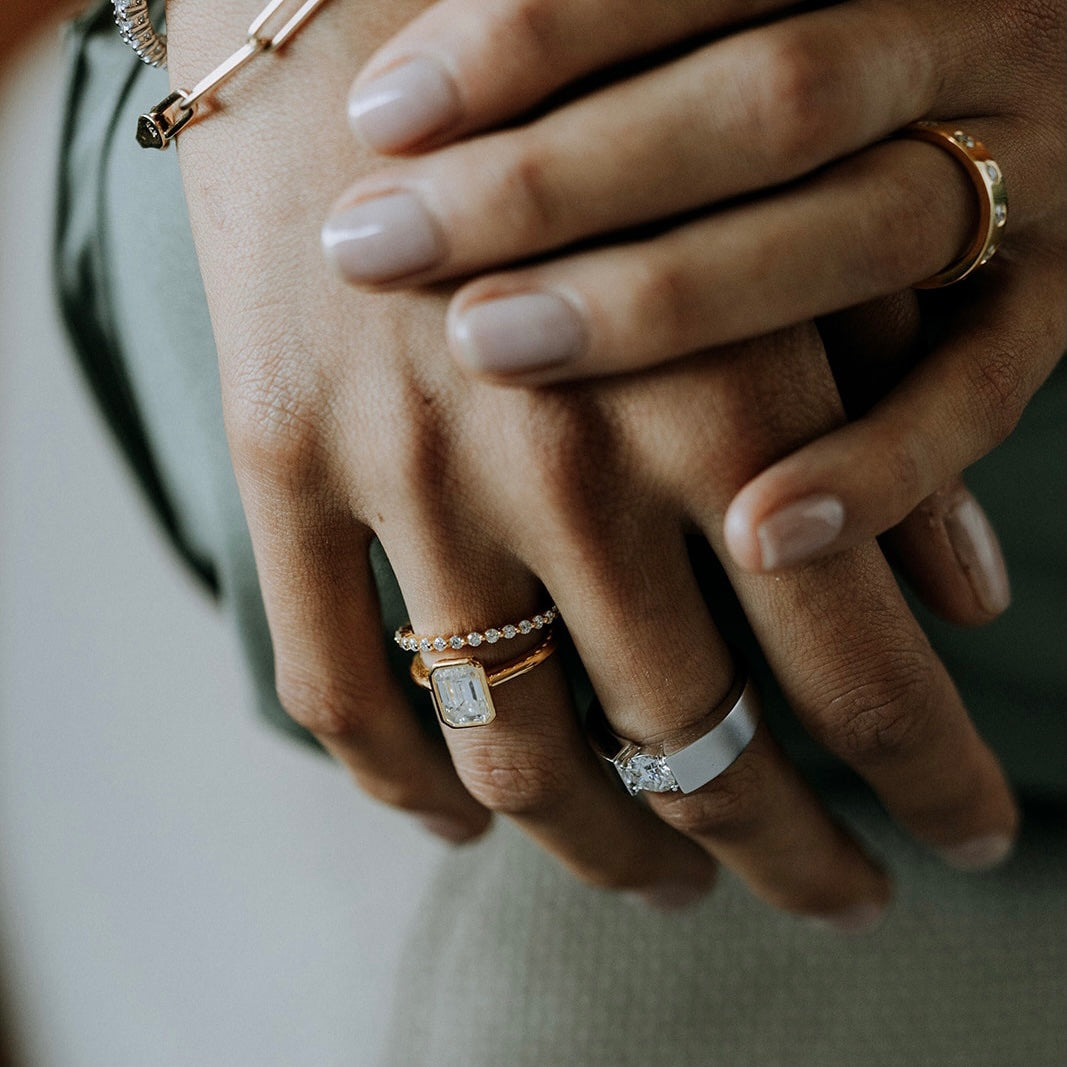 Whether you're considering purchasing an engraved ring for your wedding, or looking for an engraved necklace to hold a special place in your heart - we have many engraved jewellery options.
Engraving is often done on items such as rings, pendants and bracelets. It allows you to add names, initials, dates or short messages to make the jewellery more meaningful and unique.
If you're thinking of opting for engraved jewellery, all you need to do is contact us and we can assist you with everything you need. 
enquire about engraving
Common jewellery engraving options:
Names and Initials: Engraving a loved one's name or initials onto a piece of jewellery is a popular choice, particularly for engraved rings or engraved necklaces.
Dates: Engraving significant dates such as birthdays, anniversaries, or special occasions adds a personal touch to the jewellery. Especially a lovely, sentimental option for your wedding day.
Symbols and Designs: Engraving symbols, such as hearts, infinity signs or other meaningful designs, can represent personal connections or emotions.
The Different Engraved Jewellery

Engraved Rings:
Wedding rings are a popular choice when choosing to engrave a ring. This is because of the sentimental touch of getting the date you both got married engraved. Some people also choose to get their engagement ring engraved - either before the proposal or afterwards. Again - typically choosing the date of the proposal, the date you both met or a sentimental word that means something to the both of you.
Engraved Necklaces:
Engraved necklaces are a beautiful way to keep a name, date or special place close to your heart. Our most popular necklaces that our customers want to get engraved are our dog tag necklaces - it also makes a lovely birthday present, or a push present for your partner.
Engraved Bracelets:
Tips for Choosing Engraved Jewellery:
Consider the Size: Depending on the size of the jewellery and the available space, choose an engraving that fits well without overcrowding the piece.
Font and Style: Different fonts and styles can create a different aesthetic. Choose a font that complements the jewellery design and reflects your personal taste.
Quality and Materials: Ensure that the jewellery piece is made of high-quality materials, as it will affect the durability and longevity of the engraving.
Take the time to choose the design and message that holds meaning for you or the person you are gifting it to.
Shop Our Fine Jewellery Collection
Contact us for a visit today
Design a Custom Ring
Don't see anything you like? Design a Custom Ring and Deltora will send out a sample and a sizer
Design A Custom Ring
Contact an Expert
Send a Whatsapp Message or give Melissa a call at +61(2) 8823 3417
Contact Us